Pipe Cleaning traceert de bron van de stank,
snel en efficiënt.
Niet is zo vervelend dan stank uit uw riool. Vaak komt die penetrante geur voort uit scheurtjes of breuken in uw riolering.
Met de camerasystemen van tegenwoordig kunnen we veel gebreken achterhalen. Maar wanneer er een heel klein "lekje" in het riool aanwezig dan is dit vaak niet met de camera waar te nemen. In een dergelijke situatie gebruiken we onze rookgenerator.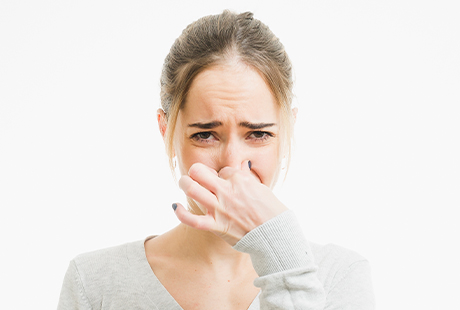 Met dit speciale apparaat wordt rook onder druk in het riool gebracht. Hiermee wordt de stank nagebootst. De penetrante geur welke onzichtbaar is wordt vervangen door rook wat wel zichtbaar is. Hiermee kunnen de locatie waarnemen en het probleem verhelpen. Op deze manier voorkomen dat we de hele riolering moeten blootleggen/openbreken. Bij problemen waar rook niet rechtstreeks uit het rioolsysteem komt, maar wel zichtbaar is vanuit een koof, verlaagd plafond of ander systeem, kan een camera-inspectie uitkomst bieden.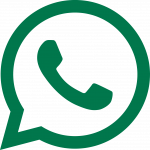 Neem snel en makkelijk contact op via
WhatsApp 06-51 53 19 00
Hoe werkt de rookmachine?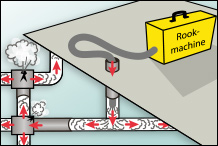 Hier ziet u een afbeelding van stanklokalisatie met behulp van een rookmachine. Hier wordt een pijpleiding getest met behulp van de rookmachine.
De rookmachine produceert een grote hoeveelheid rook die duidelijk zichtbaar is. De rook vervangt onzichtbare luchtjes. Zo wordt het lek snel visueel opgespoort en weet u waar het lek zich bevindt.
Onze overige werkzaamheden
PipeCleaning begrijpt als geen ander hoe vervelend een verstopping is en we zijn daarom 24/7 bereikbaar voor uw vragen of een afspraak.
Met een camera-inspectie van het riool traceren we problemen. Dit gebeurd zonder dat er graaf- of breekwerkzaamheden aan te pas komen. 
Uw riool functioneert niet meer naar behoren. Wij vervangen het beschadigde deel door een nieuwe leiding van hoogwaardig kunststof.